Check out these mega-cringe star moments!
Nathalia Buttface is always getting herself into super embarrassing situations!
And in her new book Nathalia Buttface and the Most Embarrassing Five Minutes of Fame Ever she accidentally becomes an overnight celebrity when her Dad posts a mega-cringe video of her online – and it goes viral!
The good news for Nat is that she's not the only celebrity to have had an embarrassing moment – check out these!
8 Most embarrassing celebrity moments ever!
1. Katy Perry belly-flops into a cake then slips over!
Katy was performing at MTV's Latin America Awards and planned to finish her performance in style by diving into a giant cake!
The only problem was the creamy cake made the whole stage super slippery – and Katy couldn't stop falling over!
2. Justin Bieber drinks too much milk and throws up!
While on his Believe Tour, poor Justin had to take a break from the singing to throw up – in front of thousands of people!
JB later admitted the reason was he'd had too much spaghetti and milk just before going on stage and his tummy didn't like it!
3. Jennifer Laurence trips on her dress at the Oscars!
Jennifer Lawrence's dress seems to have a mind of its own – causing J Law to trip up the stairs at the 2013 Oscars!
At least it wasn't in front of loads of celebrities and millions of people watching on TV as she was on her way to collect the award for Best Actress – oh wait!
4. Madonna's cape doesn't come off at the BRITs!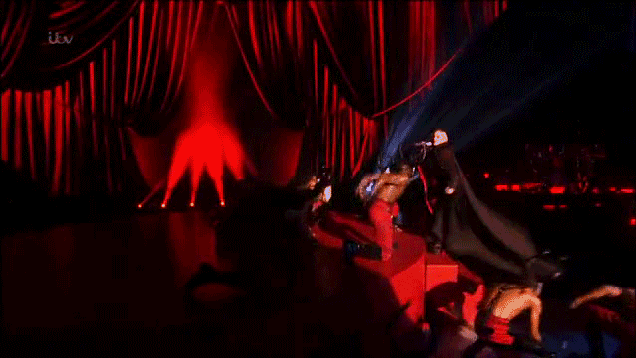 Madonna was in the middle of a huge performance at the BRIT Awards 2015 when things took a bit of a tumble – literally!
The singer's cape was supposed to be pulled-off by a backing dancer but it hadn't been undone properly and caused Madonna to fall backwards down the stairs – ouch!
5. David Beckham spies on Brooklyn on a date!
David Beckham revealed in an interview on James Corden's Late Late Show that he spied on son Brooklyn when he went on his first date!
Brooklyn has taken a girl out for a Valentine's Day dinner, not realising that his celebrity Dad was sitting just a few tables away – awkward!
6. One Direction's Liam falls on stage and knocks Louis over too!
There were loads of times the One Direction boys have tripped and slipped-up on stage that we could have chosen – but this is our ultimate fave!
Not only does Liam fall on his bum in front of the whole audience, he manages to take bandmate Louis down with him – K.O.!
7. Justin Bieber forgets the words while singing with Ariana Grande!
Justin joined pal Ariana Grande on stage as part of her Honeymoon Tour to perform his own his All That Matters!
What matters is the words to the song – which JB managed to forget on stage and Ari had to help him out!
8. Reece Bibby from Stereo Kicks spits out water in the studios!
The Stereo Kicks boys came in to the Fun Kids studios and Sean from the Fun Kids Breakfast show challenged Reece from the band to a game of Forfeit FIFA!
Reece got a little overexcited when he won and managed to squirt water out of his nose and all over our carpet – oi!
---
Nathalia Buttface and the Most Embarrassing Five Minutes of Fame Ever is new book in the mega-cringe series from Nigel Smith- and it's out now!
Explore more…
[related tag="read" limit="8″]
Fun Kids is the UK's children's radio station
Tune in on DAB Digital Radio in London and the South East, on mobile and online at funkidslive.com
Click here to listen!
Add a comment