We've rounded up the best kids and family events happening across the UK this Christmas!

Go on a journey to the North Pole from Devon this Christmas! The Polar Express Tram Ride at Seaton is based on the book and favourite Christmas film, The Polar Express. Hop on the tram and get ready for a magical Christmas experience!
Listen and sing along with all the songs, be served hot chocolate and cookies by the dancing chefs and meet Santa and his happy bunch of elves. You'll also receive a special gift from Santa and you're welcome to wear your pyjamas on board just like the film!

The pop-up town of Winterville is back for this year's festive season! This year it's heading to Clapham Common in South London! There's an ice rink, cinema, fairground, roller disco, rides and tasty street food! Plus, there's the chance to meet the big man himself – Father Christmas – in Santa's Workshop!
There's also family Christmas show being performed every Saturday and Sunday. It's called Mimi & The Mountain Dragon and it's a magical winter adventure full of snow, dragons, songs and puppets! It's been written by Michael Morpurgo and is suitable for families and children aged three years old and over. Winterville is open from now until 1st January 2018.
Winter Wonderland is back at London's Hyde Park this Christmas! If you've not been before, it's a huge festive extravaganza, with ice skating, shows, street food stalls, live music and over 100 rides and attractions! The shows include The Sooty Christmas Show, Cinderella on Ice and Zippos Circus. It's free to enter the Winter Wonderland and it's open now until 1st January 2018.
There's a very special talent contest happening on Thursday 28th December at Thornton Hall Country Park – Lapland's Got Talent! Shake off that Christmas Dinner, head outdoors and get involved with this live sing-off! Competing to be your winner are… the stunning Snow Queen – she may bring snow but does she have a heart of gold or ice? He's mischievous so watch he doesn't cheat… it's Buddy the Elf! How does she find the time… the amazing Mrs Christmas! And she's brings you magic, smiles and extra sparkle… it's your unicorn fairy!
Pick your favourite contestant and cheer them on! There's loads more Christmas events happening at Thornton Hall Country Park this month.

There's a big Christmas show taking place at G Live in Guilford, Surrey till Christmas Eve. Santa Claus is flying high above the clouds delivering presents to all the very good boys and girls around the world. Hiding in the back are two naughty elves Charlie and Kara who have snuck on-board for the ride!
All is well until suddenly, just as Santa Claus flies high above Guildford, the Sat Nav goes haywire and breaks leaving him stranded without his list of postcodes to deliver presents to! With the clock ticking and morning fast approaching it's down to Charlie, Kara and Muffin the bear to come up with a clever plan to save Christmas.

There's an amazing winter wonderland near Wetherby in Yorkshire – it's the Christmas Adventure at Stockeld Park! There's real ice skating, an illuminated maze, and an enchanted forest to explore. There's also a Nordic ski trail around the forest. This is something you can do even if you've never tried skiing before as it's a gentle, artificial track that you follow as you wind your way around the forests – spotting the illuminated sculptures along the way!
Elsewhere in the park there's the Spider's Lair – a web of climbing nets, tunnels, jungle bridges, slides and zip wires – and a Christmas gift shop.
Santa's Funtastic Factory is a Christmas, family stage show touring Scotland this December! Gary, Anya and Kevin have been invited by Santa himself to help finish the lists for all the boys and girls before Christmas Day.
There's keys to find and a Funbox to unlock but Santa's Marvellous Machine is malfunctioning, creating Christmas chaos, mechanical mayhem and topsy-turvy toys, so it's up to the Funbox gang to save the day! Will they manage to finish all the Christmas lists in time? There's singalong Christmas tunes in the show and the chance to help on stage.
Santa's Elves need your help! They've been sent on a special mission by Santa himself to share some of their secrets with carefully selected children. You're invited to come on The Elf Adventure Challenge, where you'll take part in elf games, join in with music and stories, and complete the challenges to earn a certificate and title of 'Honorary Elf'.
The Elf Adventure Challenge is a 1 hour indoor, interactive experience at The Ice Cream Farm in Cheshire and Great Northern Warehouse in Deansgate, Manchester – and it's on until Christmas Eve!
If you're near Kent, there's loads of Christmas activities taking place at Bluewater Shopping Centre! You can take a trip to the undercover, outdoor ice rink. There's seals that can help you if it's your first time on the ice and there's skating lessons for you if you want to learn how to whirl and slide around the huge Christmas tree.
There's also Santa's Grotto where you become one of Santa's elves and help Mr Crumb the Christmas Chef make a gingerbread man in the kitchen! Then you'll go through to Mrs Claus' craft room where you'll create your own Christmas tree decoration… before it's on to meet the big man himself and receive a toy to take home!
There's a brand-new festive, family festival coming to South London this December! The Greenwich Winter Time Festival is taking place in the grounds of the famous Old Royal Naval College from 1st to 31st December. There's loads of magical Christmas activities planned. As you enter the festival, you'll be welcomed by actors, musicians, jugglers who will lead you through the experience.
The ice rink will open with a performance from some pro-freestyle skaters, there's bands, DJs and choirs on the main stage, street food and seasonal treats for you to try and a Christmas market.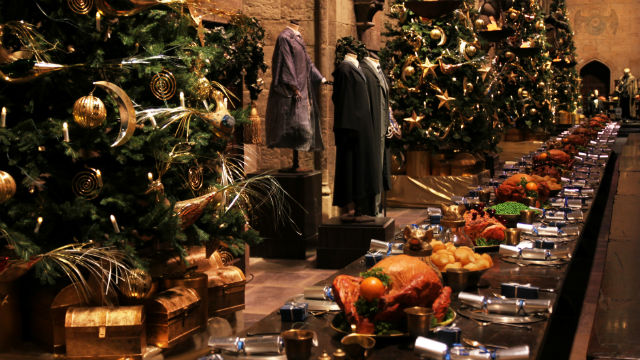 It's getting closer to Christmas and this month Hogwarts is getting dressed up for the festive season at Warner Bros. Studio Tour London – The Making of Harry Potter. From 18th November you can see the famous Harry Potter sets decorated for winter and discover how the filmmakers created fire, ice and snow that never melts!
This year, for the first time ever, the Great Hall will be decorated as it was for the iconic Yule Ball from Harry Potter and the Goblet of Fire – with shimmering silver and dripping icicles. Hogwarts in the Snow is included in the ticket price and is on until 28th January 2018!
Ever wondered what it would be like spending time with a polar bear? You can find out in this festive play at the famous Millennium Centre in Cardiff. The Bear is a wonderful story based on the book by Raymond Briggs. It follows the adventures of Tilly and a snowy white bear that climbs into her bedroom one cold evening.
This winter tale features puppetry, dreamy music and lots of laughs. Tickets are £10 and it's perfect for children aged 3+.
There are special nighttime events taking place at six English Heritage places around the UK this December. You'll be led along an enchanting garden trail into a magical wonderland bathed in lights, from strings of lanterns laced through the trees to twinkling fairy lights and special surprises.
Then at the end of the trail, there's a traditional fairground where you can learn about what Christmas was like in times gone by (as well as stopping for a mince pie and Christmas shopping).
The Snowman is back on stage at the Peacock Theatre in London! The play is based on the famous book and film, which is all about a boy who builds a snowman in his garden – that comes to life! The boy shows the snowman his home and in return the snowman takes him on a magical journey!
The play features dancing, storytelling and music performed by a live orchestra, including the famous song Walking in the Air! It's on now until 31st January 2018.
Add a comment