What's the best way to protect your pooch from a downpour?
You might think a coat – but it's apparently it's an umbrella. Umbrellas for dogs are real.
It all started when a man named Gordon shared this photo on social media…
Other people then shared their own doggy umbrella photos.
The umbrella clips on to the lead to form a nice shelter for your pampered pooch!
There are also other types of dog umbrella, like ones that clip on to their head…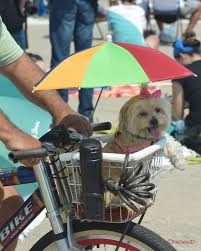 …and even a coat!
Add a comment