Whilst the ExoMars Rover isn't planned to set a wheel on Mars until 2020, that doesn't mean that nothing is happening….
The ExoMars Rovers are part of a bigger mission to explore Mars called the Aurora Programme – and the mission is very much underway!
Two separate crafts – a Trace Gas Orbiter to stay above the planet in orbit and a landing module called Schiaparelli – were launched together on 14 March 2016.
Taking advantage of the closeness of the Earth to Mars, the journey only took 7 months and they arrived into the orbit of Mars in 16 October 2016.
Three days before reaching the atmosphere of Mars, Schiaparelli was ejected from the Orbiter towards the Red Planet. It coasted towards its destination, entering the Martian atmosphere at 21,000 kilometres per hour, and began to decelerate using aero-braking and a parachute, and then thrusters.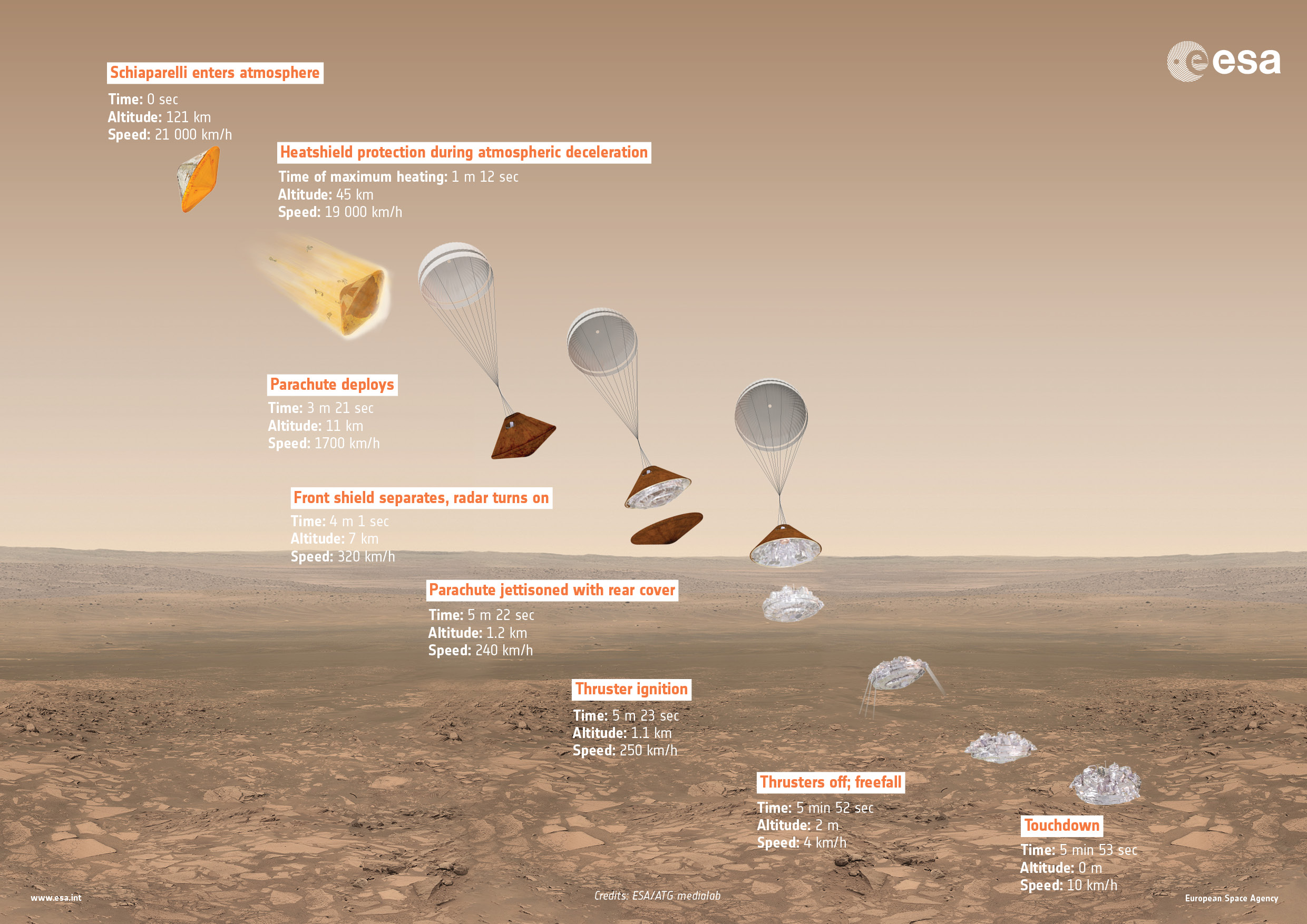 At mission control they waited to hear that the Lander had safely reached the surface…
Unfortunately, they were waiting for a long time. It seems likely that the lander malfunctioned, and crash landed. From data received back from the lander they know most of the processes worked just fine – a small calculation resulted in the wrong result – and this caused the lander to slow down too quickly.
The Trace Gas Orbiter is operational. It is performing detailed, remote observations of the Martian atmosphere, searching for evidence of gases of possible biological importance, such as methane and its degradation products. It's mission will last for almost two years. After that, it will be used to help relay data to and from the ExoMars Rover when it arrives in 2020.
Scientists can learn from Schiaparelli how to give the Rover the very best chance of making it safely to the surface. And the Orbiter will have helped too to find a safe spot, and one with interesting things to examine.
Did you know that Schiaparelli is named after a famous astronomer from Italy who drew maps of Mars which helped many other astronomers.
You can hear Deep Space High: Destination Mars on Fun Kids Radio or listen to the series below!
Deep Space High: Destination Mars with support from the UK Space Agency.
Add a comment