The Sumer Olympic Games are just around the corner – all of the action starts on Friday, 23rd July 2021.
We've made yet another awesome printable for you to download.
As well as our Tokyo Tracker, which makes a game of seeing as many different events as you can, you can now see the full schedule!
The schedule contains all the events and medal ceremonies as well as the open and closing ceremonies too.
There's also fun facts scattered across the entire thing to keep you entertained.
And if you want to find out about some of the technology they use at the Olympics, check out our new series Techno Mum's Sports Technology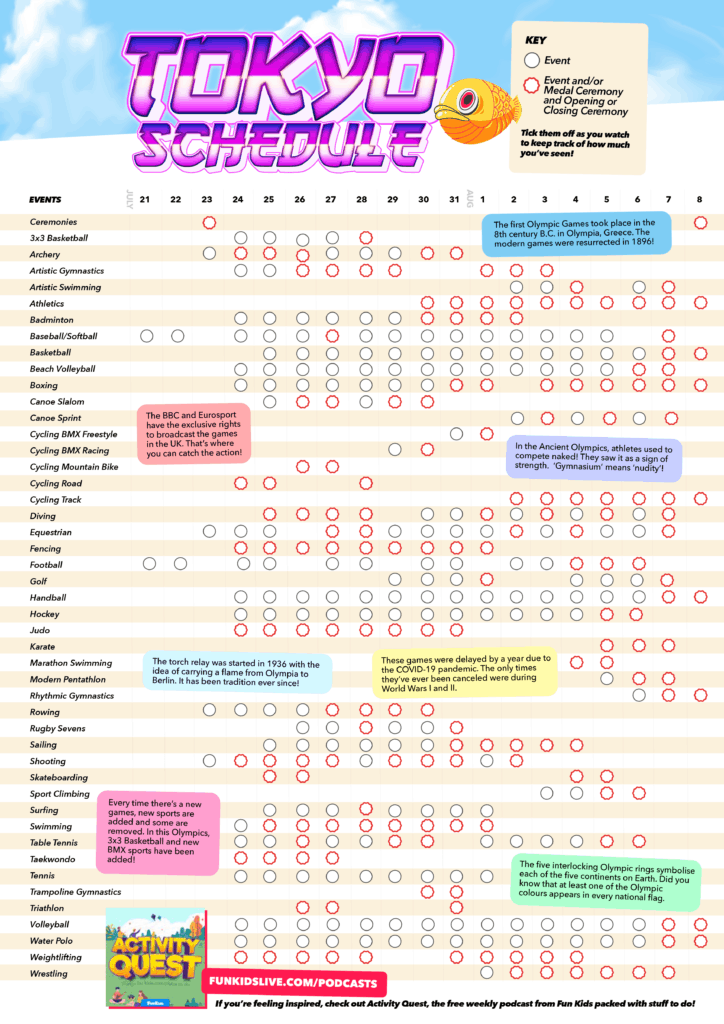 Remember, we also made a Tokyo Tracker to help you keep count of medals and mark things you might want to try!
You can tick off sports you like, ones you might like to try and keep track of your favourite countries and how they're doing in the DIY Medal Table.
The tracker has dates of the Opening and Closing ceremonies plus the names of all the sports divided into groups and solos.
By the way, if you're feeling inspired by the Olympics and this summer of sport, you should check out Activity Quest.
It's the free podcast from the UK's children's radio station, Fun Kids. Every episode starts with an activity you can try from archery to climbing, tennis and more.
Plus, check out Techno Mum's Sports Technology!
It's a brand new series that explores sport, wearable tech and more, and helps you discover exactly how something like the Olympic Games runs!
Add a comment